As you prepare for your adventures, you'll inevitably go through the process of trying to figure out what is most important for your overlanding truck. This usually involves a lot of trial and error — research what is needed, go on a trip, note down the items you didn't need and the ones you wish you had brought with you, etc.
Most of the items below should be purchased and in your possession before you drive off into the wilderness. This blog post assumes that you already have your truck and a place to sleep, and that they're both well-maintained and in good repair.
With that being said, here are the first 8 things you'll want to add to your truck!
1) Safety equipment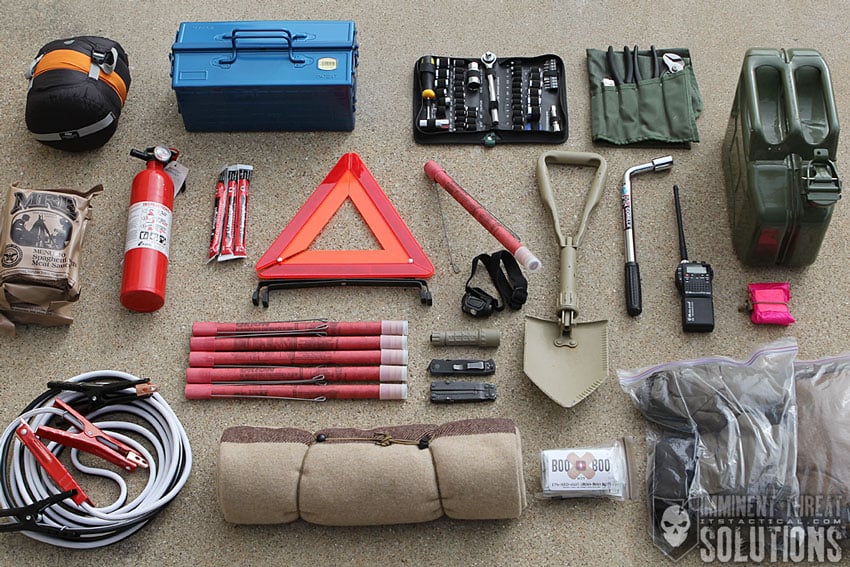 With safety equipment, the items are oftentimes considered as not necessary… until you need them. For example, most people will never use a fire extinguisher but when the engine is in flames they'll wish they had one on hand!
For all of this safety equipment, you should have it in your truck 24/7 without exception. A basic safety kit consists of the following:
For the fire extinguisher, you'll want to make sure to mount it somewhere easy to access for the driver. We chose to mount it underneath the driver seat.
2) Navigation
Nowadays, we all have phones with a standard map app installed. These are obviously great and serve as our go-to due to their ability to track location in real-time and give step-by-step directions.
If you're going into the backcountry, you should also look into buying a Benchmark Map that covers the area. They show all of the roads, trails, and natural features at a great level of detail. If you're going to rely on a paper map, then you'll also want to have at least a basic compass on hand, too. You'll also want to spend some time getting to know the compass, how to navigate with it, etc.
Lastly, if you're in the backcountry and using your electronic device (which is totally fine!), just make sure to intermittently track your progress on the paper map, too, in case the battery dies or you lose signal. In the cases of lost signal, Google Maps lets you download offline maps so you should also look into downloading the area you'll be traveling to.

3) Communication
Same as with above, we all have phones that can be used for the bulk of our comms needs as long as we have a global plan or a local SIM card. However, worst case scenario you may need the ability to communicate with the outside world while you're out of range of normal mobile networks.
The other types of comms devices people tend to buy are:
Popular Mechanics wrote an article that discusses the pros and cons of CB radios vs HAM radios that is worth checking out. As to the spot devices and PLB devices, it's really a matter of whether you want it as purely a safety device (PLB) or if you also want the ability to send status updates to loved ones (Spot).

4) Tools & spare parts
At this point, you have what's needed from a safety and first aid perspective, navigation, and communication, so we can move on to making sure you have the ability to perform basic roadside maintenance.
Mechanic toolkits run from incredibly basic with something like the Crescent set at about $100, to something more advanced like this Dewalt set at about $200, to sets for over $500. The Crescent set strikes a good balance of comprehensive, high quality enough, yet small enough to be transported effectively.
Additionally, you may want to carry some spare parts with you. You'll never be able to carry all of the parts you may need for a breakdown, but you can at least start with some of the most common parts. Oil, fuel filters, belts and hoses, and other such items should be packed. Tire plugs and an air compressor (we prefer the Viair 400p-auto) are a good idea, too, for flat repairs.
Remember what we said on our gear list, be wary of adding additional weight when not necessary and if you avoid complexity in your build you'll need to carry less tools and spare parts.

5) Recovery equipment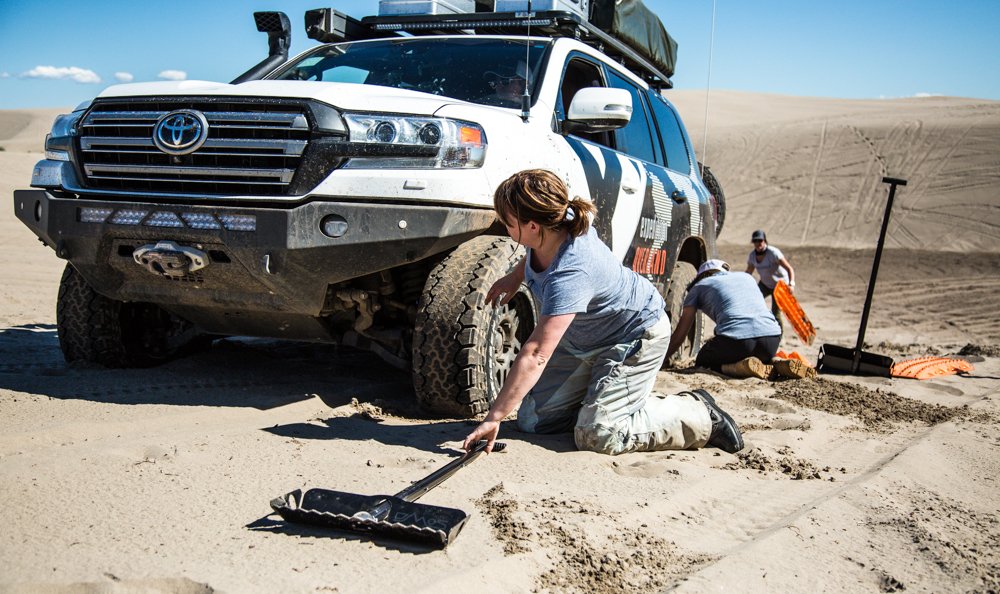 If you're the type that likes to take the trail less traveled, you may wind up getting stuck every now and then! But never fear, that's what good recovery equipment is made to solve.
But before you can get into the heavy duty recovery equipment, you need to make sure that your truck has recovery points. For example, our Relentless rear bumper has recovery points that are specifically made for these types of yanks and pulls. Do not mistake any ol' hook as a recovery point as most trucks have transport points which are made for securing a vehicle to a car carrier but will not be able to bear the force of recovery. They can, and will, shear right off which can unleash a metal projectile in someones direction.

You can read plenty of blog posts that would have tons of other recovery equipment in their kit and it's true… you could carry plenty of other stuff. But this list is enough to get started and out of most situations.
6) LT All Terrain Tires
Every mile you travel on your adventure will have something in common: it will be reliant on the tires on which you drive.
First and foremost, make sure you buy LT (Light Truck) tires instead of P (Passenger) tires. P tires often ride smoother, last longer, and be more fuel efficient. But if you'll be driving off-road or towing heavy weights, LT tires have reinforced sidewalls and treads which are up for the job.
The next decision is the tread pattern. Should you get all terrain or mud terrain tires? Mud tires are great for offroading and exhibit excellent traction. However, they tend to be noisy, heavy, hard to balance, and rough riding. If you plan to drive longer distances, you most likely will prefer all terrain tires, but if you're mainly driving short distances and going off road a lot, then mud terrains may be OK.

For the Tacoma, we went LT all terrain and also upgraded the size from 265/70R16 to BF Goodrich 275/70R16 KO2s. This fit without needing to modify the body and gave us a little extra width.

7) Suspension
Overlanding trucks, especially, need to invest in new suspension components, not just because of going off-road but also because of all of the additional weight. The increased weight of gear, armor, camper shells, etc leads to poor handling and a sagging truck.
There are plenty of kits that tout "lift" as the focal point, but the primary goal isn't to make the truck taller. The primary goal IS to make the truck support the weight better and handle better. Avoid kits stressing lift and look for kits that talk about load, handling, and other technical facets of the suspension system. Most springs will actually publish an accepted equipment load (e.g. "700 pound springs").
When upgrading the suspension, we upgraded 3 core components:

And that was it! The Tacoma now handles a lot better when going off-road, but not as smooth on the highway. This is the tradeoff you must make, of course.
8) Armor
This last consideration can be quite expensive upfront, but is probably worth it for the peace of mind it provides. If you'll be going off the beaten path, having good armor around the vehicle can pay for itself. One rock through your oil pan could cost you more than all of these armor components, for example!
You can pick and choose which armor you get based on your needs, but what we got was:
If you choose the right front bumper, it will also provide potential mounting options for an automatic winch in the future. With the rear bumper, you can order a tail swing out for your spare tire and jerry cans.
Get exploring!
These are just the first 8 things you need to think about, but there will be plenty more as you begin to explore more.
Let us know if you have anything you'd add in the comments!
Disclosure: Overlanding Taco invests hours of testing and writing to help you plan your trips, find gear, and other things to help you live a better life outdoors. We sometimes link out to products on Amazon and other sites. We get paid a commission if you make a purchase, but that does not influence our recommendations.